Electrodes for Industrial Colloidal Water Generators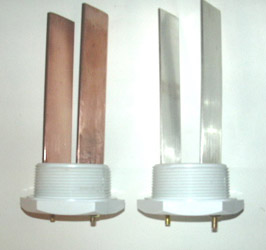 Silver and Copper
In-line Electrodes
Biophysica's Electrodes are 99.99% medically pure (0.9999).
Copper, Zinc, Magnesium and Silver Electrodes are available in a variety of sizes from .5×1 inches to Industrial 14 inches long.
 Click here for Ordering Information
 Other Pure Electrodes are available on request: Magnesium, Zinc, Tin, Iron, Gold, Platinum, Titanium.
Large commercial batch electrodes for immersion into a container, to obtain high PPM.
Large Zinc electrodes