Welcome to Biophysica Inc.
Biophysica is an incorporated company of professional consultants founded in 1998 . We offer the expertise of biologist, physician, physicist, electrical engineer, health practitioners.

Our Core Areas of Expertise Are:

FOR OUR NEW LINE OF PRODUCTS please visit our
NEW PRODUCTS PAGE
FOR OUR NEW information site go to www.colloidalsolutions.net
We provide professional consulting services and technologically advanced products for Alternative Medicine, Water Sciences, Water Disinfection Ionizers, safe antimicrobial technology, Water Softeners & Descalers.
Biophysica researches and prototypes innovative medical devices, and can design both conventional equipment as well as unusual products for public consumers, health professionals, and manufacturers. We prefer to connect directly with prospective customers in order to ensure proper match to your requirements.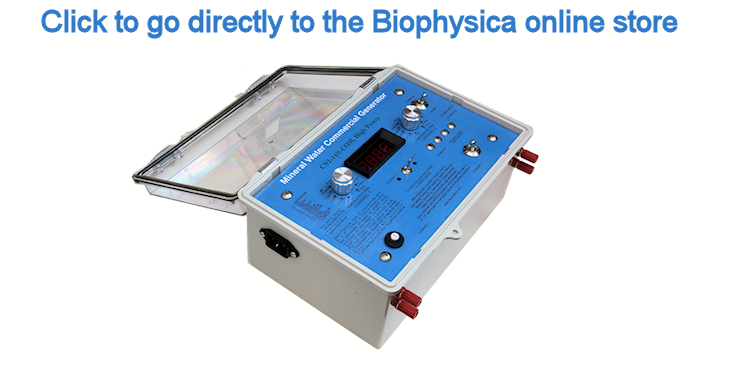 Phone us at our new number 905-707-0500 or 1-800-488-2032 in Toronto, Canada
Or email: biophysica@protonmail.com or info@biophysica.com
Here is a link to my recent video presentation
Biophysica Colloidal Silver Generators, general overview may 2018
* For purchasers in Canada, electromedical devices are available for personal, cosmetic, research or experimental use only.
Here is our new site at www.biophysica.ca